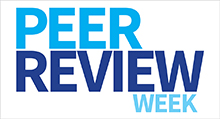 The first ever Peer Review Week, organized by Wiley, ORCID, Sense about Science, and Science Open, wraps up today. Activities promoted a lively discussion, particularly on Twitter with #PeerRevWk15.
Peer review is one of the nine core areas of responsible conduct of research (RCR), plays an important role in how science self-corrects, and helps promote integrity in research and the published literature. ORI has funded a number of online learning tools, reference materials, and case studies on peer review to facilitate RCR instruction. 
Peer Review Modules
Peer Review chapter from The ORI Casebook: Stories about Researchers Worth Discussing.
Chapter Ten: Peer Review from ORI Introduction to the Responsible Conduct of Research. 
Ethics of Peer Review: A Guide for Manuscript Reviewers
Module contains training materials for young scientists and physicians who are new to the peer review process. 
Test Your Knowledge of Peer Review
Explore common mistakes and dilemmas faced by peer reviewers through a variety of activities such as quizzes, games, cases, etc.
Evaluating Data Analyses During Peer Review  
This web module helps reviewers evaluate the data analysis section of a submission. The tool includes information on univariate and multivariate logistic regression, linear regression models, factorial analysis of variance, analysis of covariance, repeated analysis of variance, and multivariate analysis of variance.
Case Studies
From the RCR Casebook: Stories about Researchers Worth Discussing:
Responsible Authorship and Peer Review: 


A training module created by Columbia University that includes three case studies with Q&A discussion guides, annotations, background texts, and annotated resources.