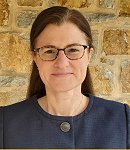 Karen Wehner, Ph.D., has joined ORI as the new Director of the Division of Education and Integrity (DEI).
Prior to joining ORI, Dr. Wehner served as the Associate Director of the Division of Research Integrity at the Johns Hopkins University School of Medicine (JHU SOM). In this role, Dr. Wehner was responsible for overseeing, developing, and delivering Responsible Conduct of Research (RCR) training for faculty, postdocs, and staff at JHU SOM as well as consulting on and supporting RCR training for graduate students. Dr. Wehner also functioned as Assistant Research Integrity Officer (RIO), providing comprehensive support for the institution's response to allegations of research misconduct, and she handled other research integrity matters, such as authorship disputes and professional misconduct occurring in the research space.
In addition to her efforts in the RCR education space, Dr. Wehner also spent time as an Adjunct Professor at Stevenson University where she taught an introductory biochemistry course and a laboratory course on molecular biology techniques. Dr. Wehner earned her Ph.D. in Genetics at Yale University, completed postdoctoral work at Stanford University School of Medicine, and conducted basic biomedical research JHU SOM. Dr. Wehner's research employed the use of molecular, genetic, and biochemical techniques and focused on the assembly, regulation, and activity of ribosomes.